How to Create a Best Man Wedding Speech: Helpful Recommendations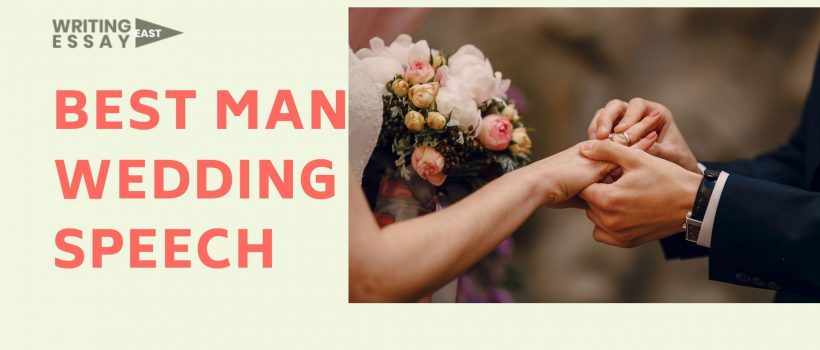 Creating an Awesome Best Man Wedding Speech: Impress Everyone
It is understood that being a best man at the wedding is a big honor. It also means that you need to deliver a good speech that makes everyone both cry and laugh. It should be a message that expresses your gratitude and pays tribute to the couple on one of the most important days of their common life.
However, even the most talented speakers can get nervous and confused when they are asked to deliver a wedding speech, let alone people who have never had a similar practice in their life at all. If you want to prepare well for this special occasion and create a speech to remember, keep on reading to get useful tips and step-by-step guidelines.
Writing a Best Man Wedding Speech

While writing your speech for a wedding be sure to take into account the following aspects:
1. Always remain yourself. Thinking that being formal is obligatory while delivering a wedding speech is wrong. Being real – that is appreciated. Your speech should reflect you. Probably, many people at the wedding will know you, so act natural. Of course, it is important to stick to some conventions. However, being honest and delivering a heartfelt message is what counts the most.
For instance, a good best man wedding speech always includes some jokes. If it is not your cup of tea, do not force yourself to joke. It will only worsen the situation.
2. Keep your speech short. Of course, it should not be just one line like an ordinary toast, but it should not be a life-long story as well. It should be approximately 2-5 minutes long. Remember that this day is all about the couple.
Sometimes, the fiancé and fiancée know exactly the timing for speeches they want. So, do not hesitate to ask them about it.
3. You need to write your wedding speech in advance and practice it a lot beforehand.  The sooner you start working on your speech, the better the result will be. Before delivering your speech at the very wedding ceremony, try to perform it at home, in front of the mirror, for example. It will help you to master your speech and build up more confidence.
4. Try to look for some inspiration. If the process of preparing a wedding speech really confuses you, you can always check some YouTube or another website for templates. Another idea is to ask for some help from your family members or friends who have already experienced wedding speech delivery. That will help you to understand better what kind of speech you want to create. However, do not just copy everything. Remember to remain yourself.
How to Deliver a Wedding Speech in a Perfect Way
1. Always stay sober until you deliver your speech. It is important since being drunk you may look awkward or may be telling inappropriate things you will regret about later.
2. Before delivering a speech, do not forget to ask all the guests to give you their attention. It is important for the audience to know who you are and how you relate to the groom, so make them listen to you. It can be done by another person who will invite you to the microphone. Anyway, be ready to bring people`s attention.
3. The first thing you need to do is to introduce yourself shortly. Say how you know the bride and the groom, how long you have known them for now, how you met. That would be the opening lines of your speech.
4. The next step is to express gratitude. You need to thank for being invited to the wedding as a best man, for having a chance to deliver a speech. You need to express gratitude to all the guests and people who oversaw making this wedding.
5. Make a light joke that somehow reflects the groom`s personality. It will better up the atmosphere. However, make sure that this joke is not offensive, and everybody would understand it properly.
6. Proceed with a touching story. You can tell how you see the groom and the bride together, how they met, or maybe you were present at the proposal. It will give your speech some personal touch. However, make sure the story is not too personal or inappropriate. Avoid including some irrelevant details from the past which may confuse the couple.
7. Tell more about the groom and some aspects of your friendship. Expand on his adorable traits. However, do not forget about the bride at this moment. Always, reference to the fiancée while talking about her partner.
8. It is a good idea to end up your speech with a memorable quote and propose a toast for a newly made family.
By following these steps and ending up your best man wedding speech on a positive note will help you to deliver a memorable and touching message everybody appreciates.