Helpful Tips for New College Students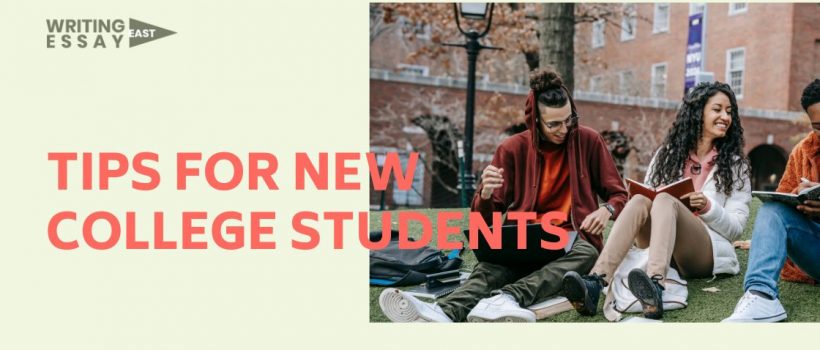 College time is unforgettable. You can meet many people, experience interesting things, and try new adventures. However, don't think about college life as an easy thing because it is always full of challenges. Everything can turn into a mere disaster if you don't know what to expect. Writingessayeast – essay writing service, which can help students and freshmen with some useful student`s lifehacks.
This article provides you with useful tips to get prepared for college life.
Attend All Classes
If you have signed up for the program or course, you understand why you need it. It means that you need to treat your academic process responsively.
Despite the temptation to sleep in when the classes start, avoid doing that. If you miss classes, you won't know how to do the tasks, and your further studies will turn into tortures when you try to make up for the material you have missed.
Think About Your Academic Load Considerately
As soon as you have decided to take up a college course, you know what subjects and programs you need to complete your studies.
However, many students take up many subjects and classes to complete the course earlier and then have to spend long nights hours to cope with everything. In a month or two, they feel entirely exhausted, stressed, and frustrated and start complaining about the wrong choice of subjects or college. You should avoid this sort of burning out. You may opt for completing your semester later and working at your own pace instead of turning your studies into a catastrophe.
Meet New People and New Impressions
This means to be active. You can choose a college in another state or city or go to it in your state and even next to your home. Both choices imply that you are going to meet new people and experience new things if you are active enough. Expand your interests and search for new impressions because college life is the best time to do that. Your new contacts will work well for you in the future.
Make Friends with Senior Students
These students have already completed your course and program, so they can share a lot of experience with you. You may need to borrow their old books, notes, lab reports, or tests to understand what is expected from you. Don't think that it is cheating. No way! You are just going to use all the available resources for your benefit.
Many student communities even have databases with such resources to help the newbies. You can also exchange the materials with your new friends, buy them, or do something useful for them to say thank you, for example, walk their dog or bake a cake for them.
Join Students' Fraternities or Sororities
These societies or clubs are usually united by common interests, so if you join one, you will come across a lot of opportunities. First of all, you will go to social events to find new friends and get fresh ideas.
You can also benefit from their resources and networks by participating in the most important events and building up your reputation as a social, considerate, open-minded, and helpful person. It is very important for your academic career and future advancement.
Save Costs by Buying Books from a Friend or Online
Students are usually short on money, and they need a lot of textbooks, too. You can never cope with all these needs if you buy textbooks at your university. They always sell them at higher prices. Even if you are going to sell them back after one or two semesters, it may cost you $100 extra.
However, such online retailing companies as Amazon tend to sell the books cheaper, and they also offer gift cards that will allow you to sell them back. You can also buy the books from your senior friends who don't need them anymore or just use reputable online resources.
Don't Lose Contacts with Your Family
Even if you have made many new friends at college, don't forget to keep in touch with your family. Remember that they are always ready to back you up or support and encourage you when something goes wrong. Take some time to make a call, send them a card, or Skyping them just once a week. Leave them assured that you are thinking about them and they matter a lot to you.
Keep in Touch with Your Old Friends
Don't fall out of touch with your high school friends. It happens that a young person gets involved in a group at college where everyone believes that they are the best company and that, if a newcomer's relatives or friends require some attention, they should be cut off. It may also happen when you have a new relationship who tries to persuade you that you don't need anyone else.
Don't lose contact with your old friends and schoolmates anyway because you don't know what kind of help or support you may ever need from them. Anyway, losing contacts can become the biggest regret of your life.
Learn a Lesson from Your Mistakes
College time isn't only about learning Math or Economics or training how to write citations due to the academic requirements. It is the time when you learn about real life. So, you need to learn from your mistakes, if you have made any, instead of blaming someone for that. You are an adult who decides what to do. Even if you have lost all your money on online poker, try to learn a lesson from it and never repeat the mistake again.
Be Crazy and Relaxed
You may have a slight idea what crazy things are about. However, you may be mistaken. It is college time, so go on adventures, hike and camp a lot, enjoy your time with friends, overcome challenges, and explore the world around you. You will have a lot to recollect later, and you will make tighter bonds with your new friends, who may become your reliable life support.
Take Care of Yourself
However, you should be careful enough not to do something that is inappropriate, harmful, or even dangerous for your life. Avoid anything that can ruin your life, well-being, or positive image.
Learn to Make Priorities
This is about time management. This soft skill is useful for college students. You may face a variety of activities, events, and trips. However, you will also have a lot of homework and test preparations. Make your study-life balance comfortable. Pick out proper time for studies and for socialization, and never mix these things so that they don't interfere with your further life and academic career.
Final Thoughts
Get to know yourself better while at college. First of all, you need to know what you expect of life and your college studies. You have to decide what you want to do in the future, what you are interested in, and how you feel about meeting new people, taking up new activities, and visiting new places. Decide what your priorities and further commitments are and follow your dream.